Portable chargers and power banks for mobiles are the most convenient options that keep your mobile phone charged when you are on the move. You do not need a power plug or to stick to one place to get your mobile charged.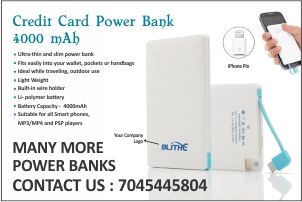 Portable chargers could be solar chargers or those that work on electricity. You can power up the charger up to its capacity and then carry it along anywhere with you. As they are handy, you can carry these chargers in a purse or handbag too. We are Wholesale Suppliers usb mobile charger and mobile power bank wholesaler in mumbai.
Power banks or external batteries can also be solar or based on electricity. The former ones can be charged using the solar panels and the latter come with USB cable that enables you to charge the power bank. You can then use it to charge your mobile phone and several other devices when you are in travel or outside your office or home. Call us for lowest price in India for wholesale power bank 2600mah.
These devices are available is varieties and you need to check the compatibility of your mobile phone with them. You need to follow the basic rules of security and regulations to avoid any damage to the device.
We are wholesalers and dealers of power banks and portable mobile chargers in Mumbai. We offer reasonable prices for these devices.