Bluetooth technology helps you connect to your device in a wireless mode. By using the in-built Bluetooth technology in your mobile phone, you can not only connect headsets but also connect speakers and enjoy music as well as calls on speaker phones.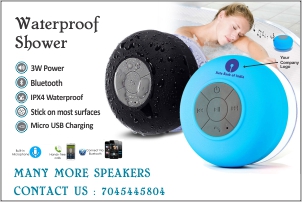 Bluetooth speakers occur in various sizes, dimensions and have varied outputs. Depending on the connectivity and compatibility of your mobile phone, you can select suitable speakers.  We are High Quality bluetooth speaker wholesalers in Mumbai, India
We are suppliers of wholesale Bluetooth speakers in India. You can contact us for wholesale Bluetooth speakers for iPad, Bluetooth mini speaker wholesale price list. We provide Bluetooth speakers for variety of mobile phones at reasonable prices.
mini bluetooth speaker,
car shaped speaker,
Wireless Bluetooth Speaker
bluetooth speaker with USB
Pocket Speakers
portable Bluetooth speaker
Bluetooth Mobile Speaker
Call us for price list of wholesale bluetooth speakers india