We are one stop wholesale dealer of credit card power banks in Mumbai, India. Power banks are the most useful for people who have to travel when they work. It keeps their cell phone from stopping in the middle of an important conversation of any sort. Good quality credit card sized power bank in India are portable and fairly lightweight as well. Portable chargers / Power banks are also required at places where power sockets are not easily acceptable. The powerful re-chargeable batteries of Power Banks contain Lithium ion and their capacity is measured in Milliampere-hour (mAh).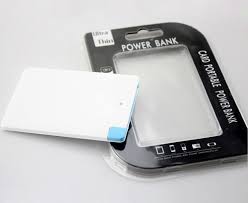 Buy Sleek, ultra slim power bank at bulk prices in India
CALL US NOW FOR THESE SLEEK AND SLIM CARD POWER BANK WHOLESALE PRICE IN MUMBAI
YOU CAN ALSO CONTACT US FOR WHOLESALE POWER BANKS IN INDIA
samsung power bank 5000mah
sony power bank 4700mah
sony power bank 6100mah
sony power bank 10000mah
syska power bank  5200mah
In a world which is as good as ruled by technology, we consider our cell phones as our most valuable objects. Other than leisure activities like listening to music, reading e- books, playing all sorts of games and quizzing and taking way more pictures than we need, our cell phones are also used for other things. If there is one thing that most individuals of the urban world cannot live without, it would be the cell phone. We do all sorts of things on our mobiles. Cell phones can be used for more than just basic call and text purposes. There are applications for various things too. We can connect with our loved ones halfway across the world using social media, find any and all information we want using the internet, we can create documents, spreadsheets and presentations by downloading their apps, we can relax with music or online e books, maybe with a couple of games or quizzes too.
Video conferences can also be held using our mobile phones. Solar Power bank is a savior for many people on the move. Power banks in India are available in myriad range of colors and sleek design patterns. We are prominent Dealers and suppliers of fast charging power banks in India at wholesale prices. For every purchase, you do get power-banks that are easy to use like plug and play. All we need to do is charge our power banks from home as well as our mobiles, and when the latter runs out of battery, we have to connect them to a fully charged power bank using an USB cable for a cell phone with full battery. Power banks are the most useful to those who have to travel a lot when they work.
We can connect with the people important in our life and a lot of work can be accomplished too. Official e- mails, creating of documents, video conferences, research based work and studies, comparison of notes; this can all be done using our cell phones. All we require is for them to be fully charged. To take all these actions, we would require our cell phones to have a decent amount of battery as we cannot keep plugging them in at all times. We may not even be around sockets or power points all the time. Also, we may require our cell phones during traveling or some other such time. There is also the possibility of our battery running out when we are in the middle of a very important conversation or call. To avoid all these issues, it is the best idea to get a power bank.
More often than not, the onetime charging of our phones is not capable of lasting for a whole working trip. Hence, many people opt for power banks. The credit card power bank is a new rage. These power banks are really small and work just as effectively; they are just the size of a credit card.
We do provide you with easy card shape pen power bank bulk purchase in Mumbai. All that is to be done is that the power banks need to be charged once before leaving from work and they provide enough power to the cell phone to last at least for one whole working day.
Buy at best prices – wholesale ultra slim credit card power banks in Mumbai India
credit card power bank 2000mah, 2500mah
credit card sized power bank for iphone 5
credit card power bank 10000mah